I came across this post on "My Little Life" this morning... and thought I might join in. You know why not, because I have so much free time -- that I should spend it on doing this. Do you since the sarcasm here?
So here is goes feel free to join in the fun!!!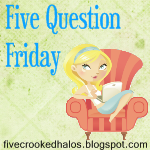 1.
What's on the top of your holiday wish list and why?!
What? You mean I get presents too? Hmm. I thought I was "Santa" now and just did the purchasing. Yeah, I am pretty sure that's all I do. I have bought a couple presents for me. Yes, that's right. I bought myself presents. I might even wrap them myself too! -- But then, I'll probably let Emma help me open them. Is that wrong?
*Psst* Mr. L I still REALLY want that perfume.
2.
What is your favorite Christmas gift from the past?
I love my sewing machine.
I use it everyday.
... As a child I can remember lots of my presents, but it was always my favorite when we would open up our stockings. Lots of cute little "fun" gifts in there. I still have most of my little "knick-knacks" I recieved from over the years.
3. I
f you had life to do over, what would you be when you grow up?
Do over? Are you kidding me. Not very likely. I love what I am. I am a stay at home mom & I get to "work" right here from home. Sewing & running my online business. What more could a Momma ask for? (Also if for any reason I wish I could be something else when I grow up -- I think I still have time!)
4. W
hen do you put up your tree?
Thanksgiving Night. Have for the last four years now. Typically we then have "fake Christmas" Saturday morning after Black Friday. But. This year we didn't. Papa didn't come to visit.
5.
What is your favorite Holiday?
I guess instinctively I want to say CHRISTMAS! Honestly I enjoy every holiday.
Christmas morning is always fun watching the kiddies open up there presents -- such joy. And mainly just having a day spent at home by the fire watching Christmas Movies, playing with the kids and enjoying my family.
Easter is always fun too, because its finally warming up around that time and it feels so fresh in the air. Plus sometimes my sister comes to visit me the kids then.
------ I am just so excited. Its FRIDAY! I have gotten alot done this week & I think I deserve a weekend away -- Now. Go away COLD! I don't want to be sick. -------